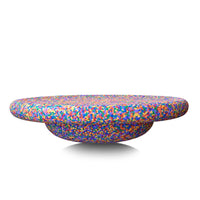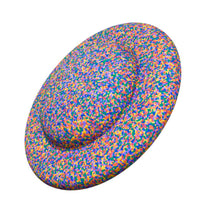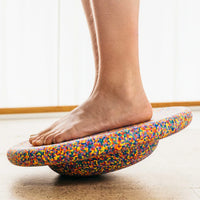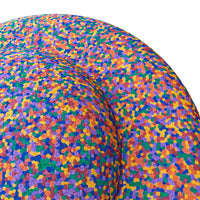 Confetti Stapelstein balance board invites your child to move nicely. Combine the balance board... read more
Ordered before 15:00, delivered the same day
Customers give PSikhouvanjou a 9.8!
Description
Confetti Stapelstein balance board invites your child to move nicely. Combine the balance board with the stacking stones or use it separately to balance while playing or sitting.
The Confetti balance board is ideal for active balance exercises and dynamic sitting. In combination with a stacking stone, the seat height can be individually and easily adjusted, but the difficulty of the balance exercise can also be increased.

The balance board is 35.5 cm in diameter and 8.4 cm high. the upright middle edge fits into a stacking stone. The raised edge of the balance board provides extra support for challenging balance exercises and is therefore particularly suitable for children and the physically disabled.
Made of EPP, a plastic with a high load-bearing capacity: the balance board can bear a weight of up to 180 kg. This material also has the property of springing back to its original shape and is very suitable for outdoor play.
Please note: if you damage the material with sharp objects (scissors, screws), this can affect the load-bearing capacity.

Helemaal super!!
Mijn dochters zijn er uren zoet mee, van voorzichtig erop staan tot rondjes draaien op hun buik. Als je al stapelstenen hebt kun je een wiebel stoel maken of als extra uitdaging tussen een parcours leggen.
Het Stapelstein balance board, zorgt voor veel spelplezier voor de jarige van twee jaar als voor de oudere broertjes! Dus een leuk cadeau.
Nodigt erg uit tot bewegen
Nodigt erg uit tot bewegen, heel leuk