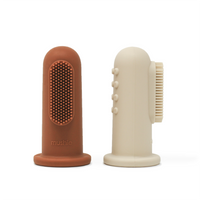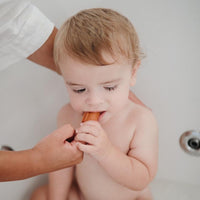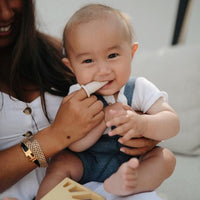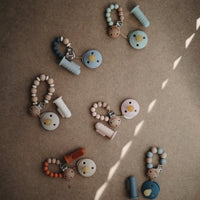 Mushie
Mushie baby toothbrush sand clay
Soft Mushie baby toothbrushes for taking care of your baby's emerging and first... read more
Gratis verzending vanaf €50
Klanten geven PSikhouvanjou een 9.8!
Description
Soft Mushie baby toothbrushes for taking care of your baby's emerging and first teeth. A soft sand and clay finger toothbrush made of silicone.

Slide the toothbrush around your fingertip and brush your baby's teeth with the bristles. The bumps on the underside provide relief when the teeth come through.
Teach your child to get used to brushing their teeth. To do this with pleasure, the toothbrush is supplied as a set of 2. 1 for you and 1 for your child to brush together in a playful way.
The baby toothbrush is made of 100% food-grade silicone, BPA free and without chemicals. Each toothbrush is 5.5 cm long and has a diameter of 2 cm. Replace the brush every 3 to 4 months.
PLEASE NOTE: * Due to hygiene reasons, it is not possible to exchange or return the Mushie baby toothbrush
Het stond in het lijstje voor de nieuwe baby
Het stond in het lijstje voor de nieuwe baby