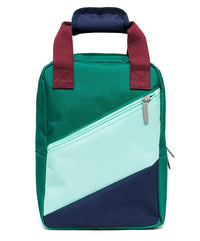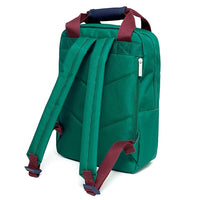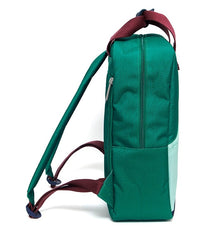 Petit Monkey
Petit Monkey children's backpack cadmium green L
A Petit Monkey backpack for children aged 8 to 12. The green children's backpack... read more
Ordered before 15:00, delivered the same day
Customers give PSikhouvanjou a 9.8!
Description
A Petit Monkey backpack for children aged 8 to 12. The green children's backpack with color block stripes has cotton handles, a 2-way zipper and a large zippered pocket on the front and in the back.
The adjustable shoulder straps and the back of the backpack are padded, this reinforcement is nice when carrying the bag. The back has an extra zipper over the length on the outside with a large compartment for your phone, for example.
The backpack has an elastic band on the inside for your drinking bottle.
A perfect size backpack for primary school and travelling.
It's a small planet recycle!
This children's backpack is durable, made of rPet. Plastic bottles are recycled, shredded and spun into yarn to weave into fabric.
Content 11.50 liters.
Via trustpilot had ik reeds een positieve beoordeling geschreven. Zeer tevreden over de snelle le...
Een goede service. Snelle levering. Zeker de moeite om in de toekomst nog bestellingen te plaatsen. Mooie degelijkheid producten.
Erg mooi! Genoeg ruimte voor alle schoolspullen op de basisschool.
Hele mooie tas, fijn in gebruik. Zoon is er erg blij mee en mama ook!
Erg mooi een stevige tas. Fijn dat er meerdere vakken in zitten. Wat dikker gedeelte bij de rug maakt dat de tas fijn in model blijft.
Zie voorgaand tekstvak.
Zie voorgaand tekstvak. We zijn erg tevreden.