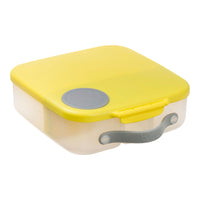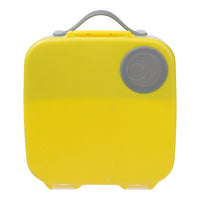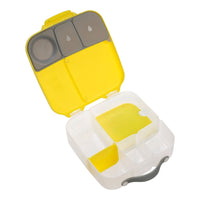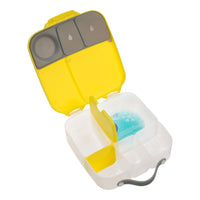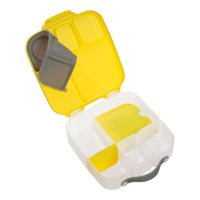 B.box
B.box bento lunch box lemon sherbert
B.box bento lunch box, a large yellow bento box with several compartments, cooling and... read more
Ordered before 15:00, delivered the same day
Customers give PSikhouvanjou a 9.8!
Description
B.box bento lunch box, a large yellow bento box with several compartments, cooling and suitable for wet food and fruit. The bento lunch box is for all children, teenagers and adults who can use variety in their lunch or would like to take a lot of food to school.
The lunch box has 5 compartments or when you remove the divider 4. The largest compartment has a bottom lid that can hold a cooling element, you can also remove this lid if you do not want cooling, you then have an extra large compartment.

The elongated compartment is suitable for a banana without the divider.

The front 3 compartments close with extra silicone closure, the compartment with the round silicone lid gives this compartment extra volume for an apple or other fruit. The other 2 compartments are anti-leak, see also the drop on the silicone seal.

The bento box closes well, is sturdy and can take a beating, is easy to open and close for children.
Preferably wash the lunch box by hand, the lid simply clicks off, just like the silicone part. If you prefer the dishwasher, then only at lower temperatures up to a maximum of 40 degrees.
Not suitable for children under 3 years old,
Including gel cooling element.
Hele fijne brood en snack bak!
Hele fijne brood en snack bak! Past genoeg in, ruimte voor gevarieerde fruit en lunch. Mooi ingepakt verzonden, super service! Kinderen zijn er erg blij.