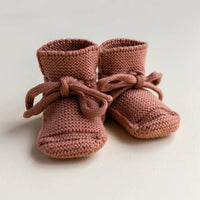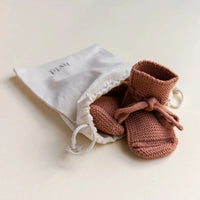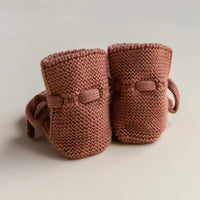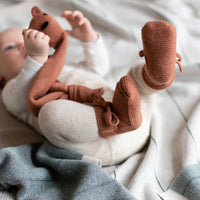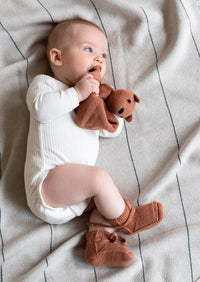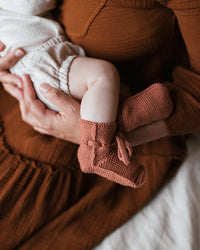 HVID
HVID slippers brick 0-9 months
HVID slippers made of merino wool otter taupe suitable for babies from 0-9 months.... read more
Ordered before 15:00, delivered the same day
Customers give PSikhouvanjou a 9.8!
Description
HVID slippers made of merino wool otter taupe suitable for babies from 0-9 months. Warm HVID slippers with a nice fit are exactly what you're looking for to keep your baby's feet warm and protected! The slippers are packed in a cotton bag, very suitable as a maternity gift,
The baby slippers are knitted in 100% merino in rib knit together they provide extra elasticity and stretch without losing the shape of the slippers. The baby booties have a real heel shape, which ensures a good fit. They stay on the foot well because of the knitted lace that can tie.
The slippers are 9.5 x 6 cm and 6 cm high.
The baby slippers are suitable for summer and winter thanks to the warmth and moisture-regulating properties of the wool. Due to the high density, more hairs per cm, of the wool, the slippers feel soft and do not itch.

Wash HVID woolen baby products as little as possible. The lanolin in the wool converts into lanolin soap when damp, which is a natural antibacterial. Wool repels bacteria due to its fine structure and is therefore very easy to maintain. So you don't have to wash products with merino wool as often
The slippers can be washed with a wool detergent, we recommend wool wash up to 30 degrees. Let air dry.
Wear with wool is normal, especially at the beginning fluff arises because the slippers move against each other or against a blanket, this fluff is normal and you can easily remove it.
Every baby is different and wear is always individual. Some babies wear the socks every day for months, others move more and have faster wear. Wool is strong but not unbreakable, slippers with wear holes are not covered by the warranty.
Sizes HVID slippers
0-9 months: length 9.5 cm; width 6 cm
9-15 months: length 10.5 cm; width 6.5 cm
Specifications
Material
100% merino wol, fine italian
Super!
Fijne en mooie slofjes van goede kwaliteit. Erg blij mee!
Fijne zachte slofjes
Mooie kleur, warme voetjes voor onze dochter
Super mooie en fijne slofjes 😊
Mooie, fijne slofjes
Fijne slofjes die goed blijven zitten! Kleur komt overeen met de foto